YOU BE THE CARDIAC IMAGING SPECIALIST!
What imaging modality is used to determine the aortomitral angulation in this ovine, and why is its precise measurement so critical?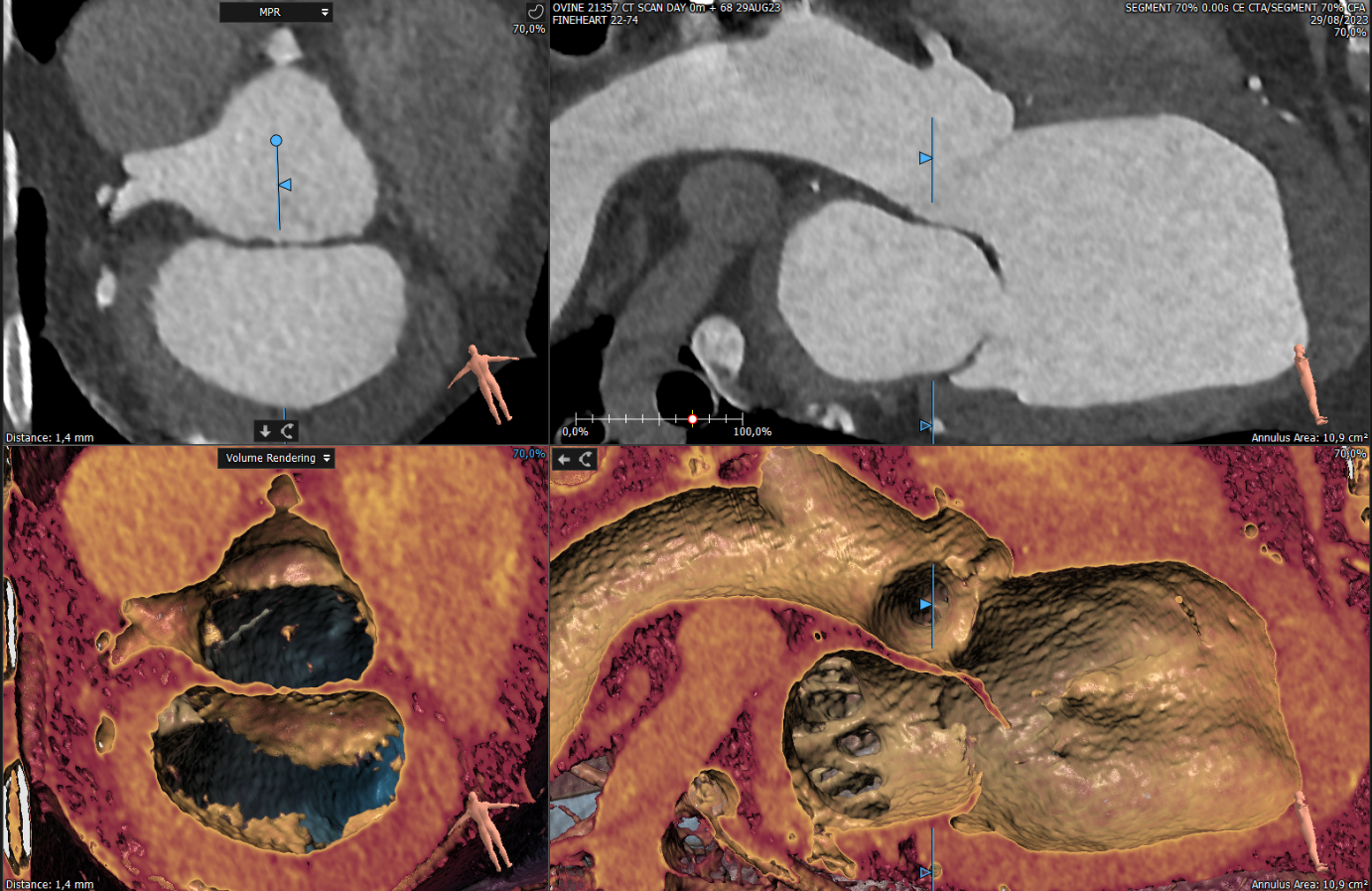 ANSWER
The aortomitral angulation is being measured with the use of our new Canon computerized tomography (CT) scanner, the Aquilion Prime SP.
This cutting-edge technology allows us to achieve superior CT imaging quality, enhancing our capabilities for comprehensive screening, precise preoperative planning, and thorough postoperative device assessment. The resulting images are truly remarkable, showcasing the power of our new equipment. We are excited to share these advancements with you, and we encourage you to reach out to us for more information and to benefit from our expertise.
In the context of minimally invasive transcatheter mitral valve replacement (TMVR), meticulous pre-procedural planning is paramount to ensuring successful outcomes. CT imaging plays a pivotal role in assessing the intricate 3-dimensional anatomy of the aortomitral region, offering invaluable insights for TMVR procedural planning. Specifically, we focus on measuring the aortomitral angle, which is determined by the interior angle formed by the intersection of a virtual plane drawn through the mitral and aortic annuli. This angle's significance lies in its association with the risk of left ventricular outflow tract obstruction following TMVR, as it becomes more acute. Therefore, the meticulous evaluation of aortomitral geometry, made possible by advanced cross-sectional imaging techniques like CT, holds central importance in our practice.
These images were acquired using Veranex's Aquilion Prime SP CT scanner by Canon Medical Systems with 3mensio Structural Heart software. This system is invaluable in cardiovascular applications, among many others.